The Kinomatics team consists of Deb Verhoeven,  Bronwyn Coate, Katarzyna Musial-Gabrys, Ben Eltham, Skadi Loist, Elizabeth Prommer, Sarah Taylor, Alwyn Davidson, Paul S. Moore, Xenia Leontyeva, Pete Jones and Aresh Dadlani. Our approach to research is collaborative and interdisciplinary. Collectively, our academic backgrounds include cinema studies, creative industries, digital humanities, cultural policy, network analysis, cultural economics, geography, geographic information systems, cartography, visual arts and data visualisation. The Kinomatics project exemplifies changing patterns of humanities research that highlight that the humanities is increasingly a global, multidisciplinary and networked effort performed by scholars that dynamically collaborate to achieve specific objectives.
Deb Verhoeven – University of Alberta

Deb is Professor at the University of Alberta and holds the Canada150 Research Chair in Gender and Cultural Informatics (Digital Humanities/Women's and Gender Studies). Before this, she was Associate Dean of Engagement and Innovation at the University of Technology Sydney and Professor of Media and Communication at Deakin University. She was the Project Director of Humanities Networked Infrastructure (HuNI), a national Virtual Laboratory project funded by NeCTAR (National eResearch Collaboration Tools and Resources). She served as inaugural Deputy Chair of the National Film and Sound Archive of Australia (2008-2011) and as CEO of the Australian Film Institute (2000-2002). In 2013 Professor Verhoeven initiated Research My World, a collaboration between Deakin University and the crowdfunding platform pozible.com to pilot the micro-financing of university research. She is currently serving on the board of the peak Canadian research infrastructure organisation, CANARIE.
Deb is a leading proponent of the Digital Humanities. Her recent research has addressed the vast amounts of newly available 'cultural data' that has enabled unprecedented computational analysis in the humanities. In addition to scholarly publications and media appearances, she has focused on the development of online research resources such as the Cinema and Audiences Research Project (CAARP) database and The Ultimate Gig Guide (TUGG) an online archive of live music information. In 2010 this work was recognized by the Australian Teachers of Media for her work on bonza: an online film and TV research resource (Best Tertiary Education Resource Award).
See Deb's website here or find her Twitter at @bestqualitycrab.
Bronwyn Coate – RMIT University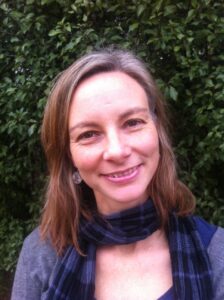 Bronwyn is an early career researcher specialising in cultural economics. She is a Senior Lecturer and received her PhD in Economics in the School of Economics, Finance and Marketing at RMIT University. Bronwyn's research explores different aspects of art and culture with a focus on economic implications using quantitative techniques. Key areas covered in Bronwyn's research include the creative industries, Indigenous cultural production, cultural consumption and film economics.
Find her on Twitter at @Bronnny123
Aresh Dadlani – University of Albeta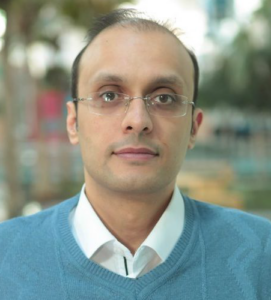 Aresh is a Postdoctoral Fellow at the Faculty of Arts – Media Tech Studies (MTS) of the University of Alberta (UofA). He also holds an Adjunct Professor position in the Department of Electrical and Computer Engineering, School of Engineering and Digital Sciences (SEDS) at Nazarbayev University (NU), where he was an Assistant Professor from 2017 to 2022. At NU, he led the Complex Networks and Systems Laboratory (CNSL), where his research team primarily focused on adopting state-of-the-art analytical tools to characterize and control the dynamics of large-scale societal and wired/wireless communication networks.
His main research interests include:
• Data-driven analysis of gender equity in global screen industries.
• Projection and control of gender biases in large-scale collaborative networks.
• Social and communication network analysis and resource optimization.
Aresh personal webpage.
Alwyn Davidson – Deakin University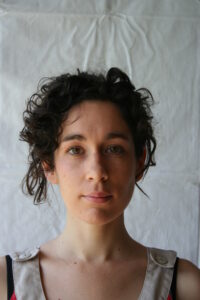 Alwyn is an early career researcher specialising in the digital humanities and geovisualisation. She holds a PhD in geo-spatial science. Alwyn's research interests include the visualisation of humanities data, the application of GIS and spatial techniques, the analysis of cultural datasets, and working within an interdisciplinary environment.
Ben Eltham – Monash University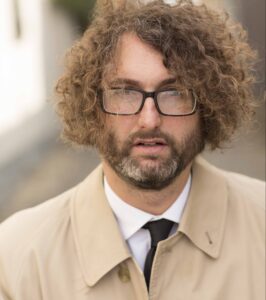 Ben is an early career researcher and Lecturer in the School of Media, Film and Journalism at Monash University and received his PhD at Western Sydney University's Institute of Culture and Society in the field of cultural policy. His research interests focus on Australian cultural policy, the cultural industries, media studies and innovation policy and theory. He also writes frequently in the popular media as a journalist and essayist. His monograph When the Goal Posts Move: Patronage, power and resistance in Australian cultural policy 2013-2016 was published in 2016 by Currency House.
Find him on Twitter at @beneltham
Pete Jones – University of Alberta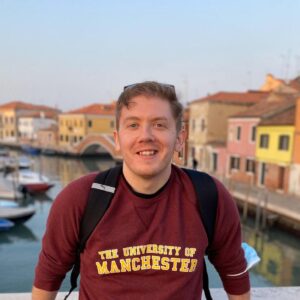 Pete is a quantitatively trained social scientist currently working as a postdoc at Faculty of Arts – Media Tech Studies (MTS) of the University of Alberta. His main research explores what the relational perspectives and tools of social network analysis can add to our understanding gender and inequality in cinema, both on and off-screen. Research interests include Hollywood cinema, feminist media studies, social network analysis, digital humanities, superhero media, and creative industries inequalities.
Researcher – movies, digital humanities, network analysis, narratives, pop culture, superheroes.
Check his website and his Mastodon: https://hcommons.social/@petejones.
Xenia Leontyeva – Saint-Petersburg State Institute of the Cinema and Television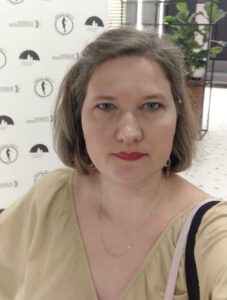 Xenia has a Ph.D. in economics (2009) and a master's degree in sociology (2022). She is a researcher of the Russian cinema market and has been working in the cinema domain since 2004. From 2006 to 2019, she used to be a senior analyst and head of Nevafilm Research, and until 2022, she worked as a consultant for the European Audiovisual Observatory. Currently, she is an associate professor in the producers' department at Saint-Petersburg State Institute of the Cinema and Television, a lecturer at the Moscow Film School, and a research intern at the Laboratory for Social and Cognitive Informatics of the HSE University. Her research interests include economics of the film industry, gender studies in cinema, social networks, and creative labor studies.
Find her on Twitter @XLeontyeva.
Skadi Loist – Film University Babelsberg Konrad Wolf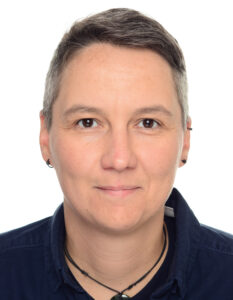 Skadi is Assistant Professor for Production Cultures in Audiovisual Media Industries at the Film University Babelsberg Konrad Wolf in Potsdam, Germany, and has led the research project "Film Circulation on the International Film Festival Network and the Impact on Global Film Culture" (2017–2022) funded by the German Ministry of Education and Research (BMBF) and currently Lead-PI of the international, multi-method project "Gender Equity Policy (GEP) Analysis Project: Assessing, Understanding, and Modelling the Impact of Gender Equity Policies (GEP) in the Film Industry" (2021-2024) funded by ESRC/DFG/SSHRC. Their main research areas are film festivals & global film circulation, queer film culture, screen industries, diversity and sustainability, and digital methods. Skadi is a co-founder of the Film Festival Research Network (FFRN), and Editorial Board member of NECSUS_European Journal of Media Studies, Journal of Festival Studies and Diversity in Recht und Wirtschaft.
See Skadi's website here and find them on Twitter at @SkadiLoist.
Michelle Mantsio – Royal Melbourne Institute of Technology University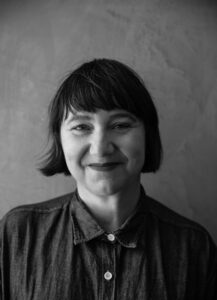 Michelle Mantsio is a lecturer at RMIT University's Department of Interior Design. Her research practice lies across art and design, with a focus on the intersections between pattern, repetition, and the body through an exploration of multi-level assemblages. These interests have been applied to visualisations.
Paul S. Moore – Toronto Metropolitan University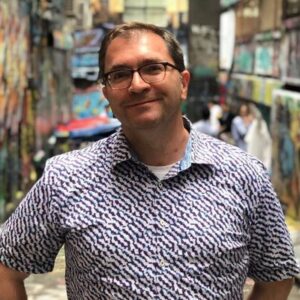 Paul is Professor at Toronto Metropolitan University (formerly Ryerson). His research analyzes the continual constitution of the mass market and urban modernity, with a focus on early showmanship, regulation and promotion of cinema-going in North America. His project, Circuits of Cinema, tells the history of film and media distribution from the earliest days of traveling shows to global blockbusters. With Jessica Whitehead, Multicultural Moviegoing recovers histories of immigrant audiences for diasporic cinema in Canada. Whitehead and Moore are also Canadian partners with the Media History Digital Library, helping to add digital copies of national film trade magazines. From 2012 to 2024, Moore served as President of the Film Studies Association of Canada.
See Paul's website here and find him on Twitter at @PSMooreTMU.
Katarzyna Musial-Gabrys – University of Technology Sydney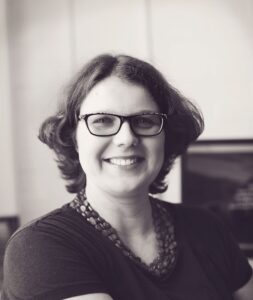 Katarzyna is a Professor in Network Science in the School of Computer Science at the University of Technology Sydney. She is also a member of Data Science Institute and co-director of Complex Adaptive Systems Lab. She was awarded her PhD in November 2009 from Wroclaw University of Science and Technology, Poland and in the same year, she was appointed a Senior Visiting Research Fellow at Bournemouth University (BU), UK, where from 2010 she was a Lecturer in Informatics. She joined King's College London, UK, in November 2011 as a Lecturer in Computer Science. In September 2015 she returned to Bournemouth University as a Principal Academic in Computing where she was also a member of Data Science Institute and Head of SMART Technology Research Group and after a year got promoted to Associate Professor. Her main areas of research are complex networked systems, digital twins in the complex networked systems and analysis of their dynamics and evolution, as well as predictive, adaptive modelling of networked systems. She is also fascinated by the controllability and control mechanisms in complex networks.
See Katarzyna's website here.
Elizabeth Prommer – University of Rostock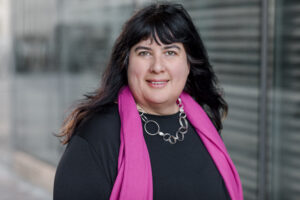 Elizabeth is Professor for Communication Science and Media Studies and Director of the Institute for Media Research at the University of Rostock. Currently, she is researching the gendered media production cultures. Several studies document the underrepresentation of women in the audiovisual media, behind and on the screens. Elizabeth has conducted the fieldwork for the FFA study Cinema and Gender, 2017, and also for Television Film and Gender, 2017 for the public broadcasters, as well as the Diversity Report 2016 for the German director's guild. The study Audiovisual Diversity in 2017 analyzed a representative sample of German TV and Cinema and the representation of gender. Elizabeth was part of the European Audiovisual Women (EWA) study: Where are the female directors in 2016.
As a researcher, Elizabeth is strongly interested in the 'moving picture' on all possible media platforms (cinema, tv, internet, mobile media and new forms in the future) and the (changing) audiences and the modes of reception in changing media environments. This explains the three media environments she has written publications about: cinema, television, and internet. Elizabeth's theoretical interest in the media use of different generations ties all these fields together.
With her research company Prommer Media Consulting (until 2011), Elizabeth has consulted film producers and film distributors about marketing strategies and conducted test screenings. Her clients included the Oscar winner "Nirgendwo in Afrika", the Box office hit "Schuh des Manitu" and several other film genres. Elizabeth has worked as a trainer in the EU executives training program of CICAE, the federation of art cinemas.
Find her on Twitter at @Prommer_Elli.
Sarah Taylor – RMIT University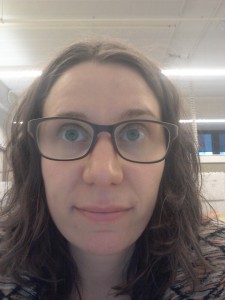 Sarah is a PhD graduate from the School of Maths and Geospatial Sciences at RMIT University. Since 2017 she has worked as a Data Scientist within the Education Portfolio of RMIT University. Her PhD research focused on live music in Sydney and Melbourne since the early 1980s, using a combination of historical GIS and interviews with musicians. She has over ten years of experience working with Geographic Information Systems, and from a GIS base, she has branched into the related skills of database manipulation and software development. She also holds a Cultural Studies degree and a postgraduate certificate in Software Design. She has performed with music group the Taylor Project since 2006. This interest in music informed her PhD research.
See Sarah's blog here.