A capacity audience at the Deakin University Melbourne City Centre attended our end of year kinomatics symposium on December 4: Culture….Data → Meaning
We would like to thank everyone who attended and participated in what proved to be a jam packed day.
Speakers on the day included Colin Arrowsmith, Bronwyn Coate, Ben Eltham, Alex Gionfriddo, Sarah Taylor, Dean Brandum, Deb Verhoeven, and Vejune Zemaityte. But that's only part of the story. Contributions from all attendees proved to be a major part of the day's success.
The day began with this impressive SNA visualization describing our co-publications over the past few years, prepared by kinomatics member Stuart Palmer: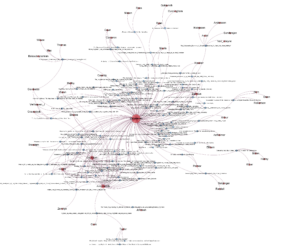 A particular highlight was a panel examining industry and government approaches to cultural data chaired by Ben Eltham and featuring Esther Anatolitis (Regional Arts Victoria), Andrea Buck (Transparency Australia) and Kirsty Rivers (Creative Victoria).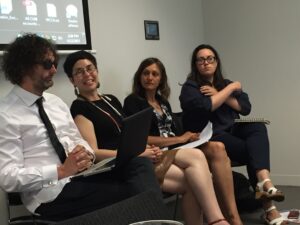 We hope to host another kinomatics symposium at the end of 2016 – stay tuned!