The inaugural Kinomatics Symposium: Culture….Data → Meaning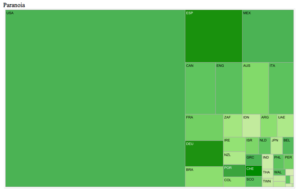 Join us for a showcase of work produced by the Kinomatics research group that explores different aspects of the industrial geometry of culture.
The first Kinomatics Symposium will highlight work undertaken in relation to the spatial and temporal dimensions of international film flow and also in relation to Australian live music gigs. The implications for cultural policy will be addressed by a specially convened panel (details of participants will be posted here).
Research undertaken in the Kinomatics Project is both collaborative and interdisciplinary and provides new insight into the collection, exploration, analysis and representation of big and small data about the creative industries.
For your diaries
Date: Friday 4 December
Time: 10.45 arrival for 11.00am start and finishing at 4.45
Venue: Deakin Melbourne City Centre, Level 3, 550 Bourke Street
Download: Kinomatics Flyer (including RSVP details)
Download: KinomaticsSymposiumFinalProgram